LabTool-T400
发布时间:2018/5/30 阅读:9474次

LabTool-T400 Option 100
Single Socket Turbo Flash Programmer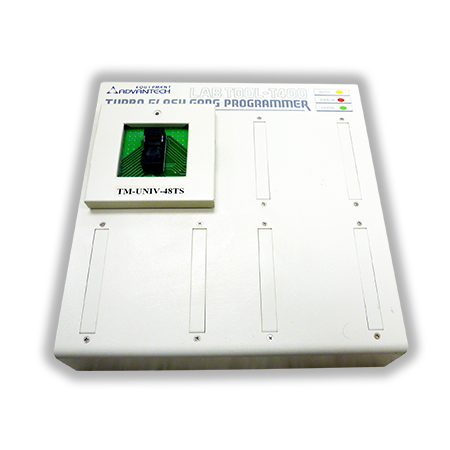 The LabTool-T400 Option 100 is a shirk version of LabTool-T400 with affordable price.
The Option 100 remove three set of pin driver on T400 only one set pin driver left on T400 , The LabTool-T400 Option 100 is idea solution to customer in R/D who need to program very high density Flash chip with low voltage such as 3.3V , 1.8V and 1.2V. those high density and low voltage do not support by Labtool-48UXP.
LabTool-T400 option 100 can be upgrade to full function LabTool-T400 later on by purchase extra three set of pin driver and filed install by customer.
LabTool-T400
Turbo Flash Gang Programmer
---
Features
Support 3.3V to 1.2V flash memory chip in VCC and I/O without low voltage converter.
Flash chip support up to 128G bit.
Extremely high speed: it blank check a 64M bit flash chip in 1.6 seconds, program the STM28W640CT (4 word programming algorithm) within 11.5 seconds, verify within 3.2 seconds.
USB interface: support USB 1.1 or 2.0
One PC can connect up to 16 unit Labtool-T400 to perform Asynchronous programming
Device insertion /continuity check before programming.
Target quantity and Max failure rate alarm.
Supports Windows 98SE / ME / 2000 / XP / Vista(32bit) / 7 / 8.1 / 10
1 year warranty
Introduction
LabTool-T400 Turbo Flash Gang Programmer is four sockets PC-based Gang Programmer. It features four independent isolated modules, extremely high speed in writing flash memory chip. It supports 3.3V, 2.7V, 1.8V and 1.2V chip in both VCC and I/O without low voltage converter and handles 8/16/32 bit flash chip in different package through adapter modules, up to 128Gb flash can be support. The LabTool-T400 is an ideal programmer for customers in GSM, 3G Mobile, PDA, Internet router and others.
Unbeatable programming speed and throughput
The LabTool-T400 has build in Compact Flash Card (CF) on board that reduce the massive data transfer between the PC and LabTool-T400 .The LabTool-T400 performance reach the speed limitation of the chips in its spec. No other gang programmer today and future can beat the speed of the LabTool-T400.
LabTool-T400 performance ( PC with P4 1.3G 128M RAM)
| | | | |
| --- | --- | --- | --- |
| | STM 4 word algorithm | Intel EFP algorithm | Spansion word algorithm |
| Blank check | 1.65s per 64Mb | 1.65s per 64Mb | 1.65s per 64Mb |
| Programming | 11.5 sec per 64Mb | 16.6s per 64Mb | 29.5s per 64Mb |
| Verify | 3.2s per 64Mb | 3.2s per 64Mb | 3.2s per 64Mb |
| Total | M28W640E in 16.3 sec | GE28F640W30B in 21.4 sec | Am29DL640G in 34.5 sec |
3.3V to 1.2V chip in VCC and I/O support
The LabTool-T400 use the 90nm FPGA chip in hardware design, it can handle the chip from 3.3V to 1.2V in both VCC and I/O without need special low voltage converter circuit. This new technology fulfils customer's need and makes customer's investment fully protected.
High density chip support
The LabTool-T400 has reserved the growth potential in chip's density. It covers 8/16 bit flash today and future's 32 bit flash chip. Its I/O pin driver can cover flash with Max 128G bit in density. This growth potential protected customer's investment without purchasing a new generation programmer over a decade in future.
Expansion through USB Hub and configure as a Multi-station Asynchronous Gang Programmer
The LabTool-T400 interface with PC through USB interface, which support USB 1.1 and 2.0. If customer needs more units in production, just purchase extra LabTool-T400 and connect those LabTool-T400 through USB Hub, up to 256 LabTool-T400 can be attached to one PC. Recommend with 8-16 unit LabTool-T400 control by one PC to avoid performance decrease. Such configuration has significantly reduces the cost per station with low initial purchase cost and growth potential in future.
Adapter modules with ID
The LabTool-T400 adapter module has independent ID. After inserting the module in the LabTool-T400, the system will detect the module's ID and compare the corresponding adapter modules with the chip select in software. This future prevents the wrong adapter module insert or wrong chip selection in operation.
Device support
Flash memory: include NOR , NAND, EEPROM and other flash technology
Device data width: 8, 16 and 32 bit
Max flash density support: 512Mb with 128M byte Compact Flash Card install on board (standard offer), can be extend to 128Gb with exchange higher density Compact Flash Card on system hardware.
File format
Binary, Intel Hex, Intel Ext Hex, Motorola S, HP64000 ABS, Straight Hex
Interface to PC
Accept USB 1.1 or USB 2.0
PC system requirements
Operating system: Windows 98SE / ME / 2000 / XP / Vista(32bit) / 7 / 8.1 / 10
Processor: Pentium and above
Memory: 256M and above
Hard Disk: over 100M free space
CD ROM driver
Interface: USB 1.1 or 2.0 interface
General
Power adapter: 65W AC 100-240/47-63HZ Auto Switch.
Out put: DC (12V/3A, 5V/6A)
Operation temp: 5 to 45 degree C
Safety: CE&LVD certified
Shipment Weight: 5.0 Kg without modules.
【收藏该页】【关闭窗口】